12/1/23
Happy new year to all our listeners and followers!
One of the highlights of last year was our concert at LIFEM London in november. Such a warm and enthusiastic audience, such a good organization by Chris, Ann, Alfie and the rest of the team. Thank you, thank you, thank you!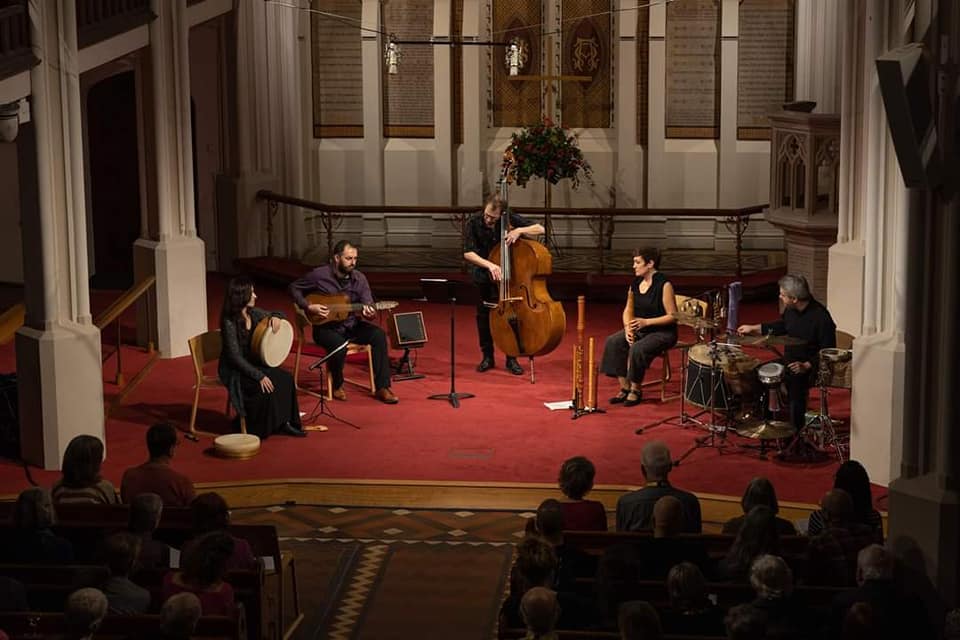 3/11/22
Our new album Desvíos a Santiago is now published on Bandcamp. Click here to listen to and purchase it.
On 12th of november we will play our UK debut at LIFEM, the London Interntional Festival of Early Music! Info and tickets here.
3/10/22
We have a new videoclip, recorded in a beautiful abandoned monastery in the silent Castille countryside, with a medieval cantiga by Alfonso The Wise. Click here to watch.
20/3/22
Our Patreon Page is online! If you liked Akoé, help us to produce our second album Desvíos a Santiago – we would love to have you on board! Click here for more info and watch this video in which we talk about the campaign during a recent recording session.

9/2/22
We are recording our new album «Desvíos a Santiago» at the Arco del Valle studios, Cercedilla (Madrid) and are very, very happy with what is coming out of these sessions! In march we will inform you about how you can support us with the production of the album, we are preparing a nice campaign in Patreon. Stay tuned!
6/7/21
Our presentation concert of the new repertoire «Desvíos a Santiago» (something like «Detour to Santiago») in the Gijón Early Music Festival was a wonderful experience! Can't wait to play it again, soon we'll be in the «Festival en el Camino de Santiago» de Jaca (Pyrenees) and in the «Semana de Música Antigua» in Logroño.
8/3/21
We have a new video! You can find it in the Multimedia section. It's a pilgrim song from 14th century Spain, «Polorum Regina» from the Montserrat Codex, from our new repertoire that's all about pilgrimage.
30/11/20
«Akoé» received good reviews since its release in april (although some purists didn't like the album and that's ok with us), you can read some of them in the «press» section. We are busy preparing the first CD presentation concert in Madrid on 10th of December. Also, we are creating a new repertoire for the 2021 Xacobeo aniversary, which consists in ancient European pilgrim songs. Isabel Martín, the singer and percussionist featured in one piece on Akoé, will collaborate as a steady member of Taracea in this programme.

03/04/20
Hello everybody,
thanks for your interest in Taracea! Although we are still under shock due to the Coronacrisis and all the cancelled concerts, we keep on creating and investigating, preparing for the happy moment when we will meet again.

We hope you like our website. Feel free to leave your comments here, we would love to read them. We hope you are well and look forward to going on tour to meet you in a concert. Take care!